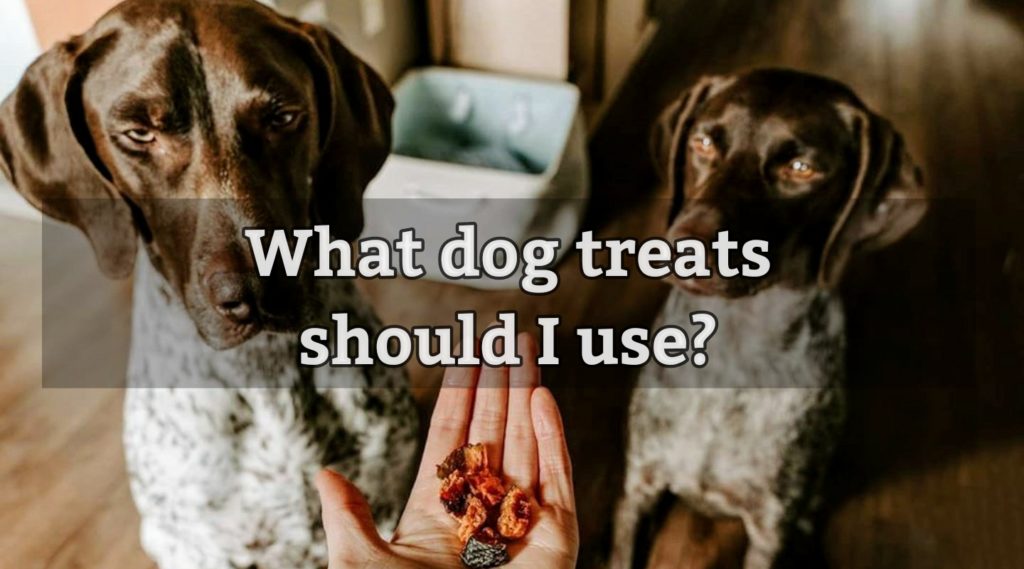 My dog refuses every treat we've bought
First and foremost, if you're looking for treats for the sole reason that dog trainers always use treats for training, then read this first. Throughout lessons I will always tell my students to do their best to analyze THEIR dog. Training, just like teaching children,is not stagnant. Some dogs are motivated by food, others are motivated by other things such as toys, play, petting, scent trailing, etc. You need to utilize and leverage what your dog wants and don't apply usual cookie cutter training methods as if every dog learns the same. Try rewarding your child, assuming you have kids, that hates to read, with a book. The kid would probably still say thank you for the gift, but sure enough you'll be able to see the disappointment in their eyes. Dogs are no different!
Analyze what you've bought in the past
Just like human food, there is a vast array of options available when it comes to what you buy. Dog treats can be science based, animal based, plant based, holistic, you name it. I generally tend to lean toward both food and treats that have whole natural ingredients that are similar to what a dogs diet would pertain to if it wasn't bought in store, aka harvested by the dog itself. Unlike food, I wouldn't worry too much on "too much fat, protein, fiber, etc." They're not going to be getting huge bowls filled with these treats. So let the treat be tasty! Remember, if the dog does not like it… it's not going to work. Should be easy enough to remember right?
What should I look for in a dog treat?
As minimal amount of ingredients as possible
Primarily protein / meat based treats
Training an easy command that you will practice repetitively? Look for small squishy treats that you can break down to even smaller pieces
Training a more difficult command? High reward! Something you don't give very often (longer lasting chew, steak, chicken, etc).
Dehydrated 1 ingredient treats are usually a big hit
Small Wet Treats
Utilize these recommendations for commands and tricks that are generally easier and commands that you generally tend on removing treats from. These are treats that can easily be broken apart into smaller pieces (a teaser).
Zuke's Natural Training Dog Treats
Made in USA
3 Calories per treat
8% Protein
First 3 ingredients (Chicken, Rice, Barley)
16oz Bag
Blue Buffalo Wilderness Trail Treats Wild Bits High Protein
Made in USA
4 Calories per treat
20% Protein
First 3 ingredients (Deboned Chicken, Potatoes, Chickpeas)
No Poultry By-Products
No Wheat
No Soy
Full Moon Organic Human Grade Training Treats for Dogs
Made in USA
3 Calories per treat
22% Protein
First 3 ingredients (Organic Chicken, Organic Flax Seed, Ground Celery)
Glycerin Free And Grain Free
No Corn, Wheat Or Soy
Low / Minimal / Single Ingredient Treats
These can be used for easy to high difficulty commands but also for dogs who may have allergies or for someone who wants to monitor their dogs diet.
Stewart Freeze Dried Treats
Made in USA
1 SINGLE Ingredient (EG: Dehydrated chicken)
High Protein
Glycerin Free And Grain Free
No Corn, Wheat Or Soy
Full Moon All Natural Human Grade Dog Treats
Made in USA
4 Ingredients

Chicken, Organic Cane Sugar, Vinegar, Rosemary Extract

High Protein
Glycerin Free And Grain Free
No Corn, Wheat Or Soy
High Value Treats
Have a dog that isn't very treat motivated? Working on more difficult commands (Such as a recall or "come" command) that requires a higher reward? These are several treats that are exactly what you need!
100% Natural Dog Peanut Butter
Made in USA
25% Protein
No hydrogenated oil, palm oil, high fructose corn syrup, stabilizers, xylitol, added sugar or salt.
ORIJEN High-Protein, Grain-Free, Premium Quality Meat, Freeze-Dried Dog Treats
Made in USA
40% Protein
Bison, bison liver, bison kidney, bison tripe
Triumph Dog Turkey, Pea, & Berry Grain Free Jerky
Made in USA
16% Protein
Turkey, Pea flour, sweet potatoes, chicken meal,
Recommended book
Dog Nutrition and Cookbook: The Simple Guide to Keeping Your Dog Happy and Healthy
Ultimately, anything provided from home will be your best and highest reward for your dog. This book will help you learn what to be feeding (raw or cooked), and how to be balanced with it!
Contact us today!
As always, do not hesitate to text, call, or E-Mail if you have any questions, would like more information, or would like to set up training for your service dog work.