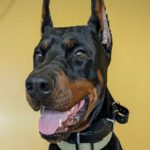 Dogs Name: Gir
DOB: 05/30/2021
Service Dog Training Start Date: 09/01/2021
Service Dog Training End Date: 05/15/23
Rabies: valid until 4/5/2025 (Documentation can be provided at request)
Doctors supporting documentation: Signed 01/20/2021 (Due to privacy / HIPAA law, documentation will not be provided from us however this page outlines that we have indeed seen and verified disability and service dog requirement)
This page is offered out of courtesy by Service Dogs of NY INC & Rochester NY Dogs to guarantee that Gir (European Doberman – Photo above) has undergone our full extensive service dog training program. The dog listed above adheres to all ADA laws and the trainers and lawyers of Service Dogs of NY Inc have verified all legal documents to include doctors documentation.
For United States establishments, the following page outlines requirements to allow the dog listed above as a service dog and NOT as a pet.
https://www.ada.gov/resources/service-animals-2010-requirements/
For Canadian establishments, the same program adheres to minimum requirements to also recognize the dog listed above as a service dog animal. The following page outlines Ontario CA law regarding service animals and disabilities.
https://www.ontario.ca/page/accessibility-ontario-what-you-need-to-know#section-7
If at any point any questions or concerns arise, all inquiries can be made to us by email at [email protected]