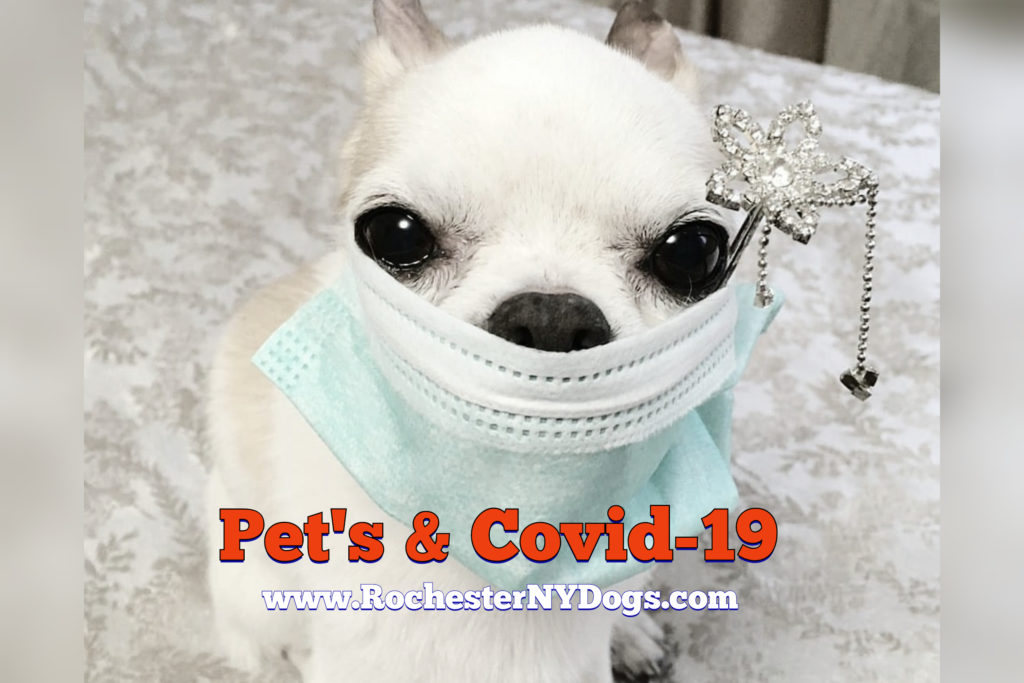 Is my dog, cat, animal at risk of the Coronavirus (Covid-19)?
Dogs / Pets can contract certain cases of the Coronavirus, such as canine respiratory coronavirus. However, at this moment, NO, there is no reason to believe that your pet (dog, cat, etc) is at risk of this specific strain of Corona Virus or Covid-19. Although the virus did originate from animals, the virus is now spread from human to human. At this moment (March 16th, 2020) there have been 0 cases of a pet being tested positive for carrying or being infected by Covid-19
Can my pet spread Coronavirus?
Obviously with how new this strain of the coronavirus is, it's obviously unknown. It is currently believed that at the moment contact with pets does not pose a threat or ability to pass Covid-19, but that you should still take precaution especially for those that have any pre-existing medical conditions or are immunocompromised.
The Center for Disease Control and Preventions (CDC) has released the following statement: "While this virus seems to have emerged from an animal source, it is now spreading from person-to-person in China. There is no reason to think that any animals including pets in the United States might be a source of infection with this new coronavirus. To date, CDC has not received any reports of pets or other animals becoming sick with COVID-19. At this time, there is no evidence that companion animals including pets can spread COVID-19. However, since animals can spread other diseases to people, it's always a good idea to wash your hands after being around animals."
Pet's being tested for coronvirus and current findings:
The American Veterinary Medical Association or AVMA for short, recently reported that there was a dog in Hong Kong that was tested due to the owner being infected by Covid-19. AVMA states that the tests came back "weak positive."
AVMA's website stated the following in relation, "On Thursday, February 27, Hong Kong's Agriculture, Fisheries, and Conservation Department (AFCD) reported that samples obtained on February 26 from the nasal and oral cavities of a pet dog (a 17-year-old Pomeranian whose owner had been diagnosed with COVID-19) had tested "weak positive" for SARS-CoV-2, using a real time reverse transcriptase polymerase chain reaction (RT PCR) test. A fecal sample was negative. Testing was repeated on February 28, March 2, and March 5 with continued "weak positive" results (nasal and oral sample, nasal sample, nasal sample, respectively). The RT PCR test is sensitive, specific, and does not cross-react with other coronaviruses of dogs or cats. A "weak positive" result suggests a small quantity of SARS-CoV-2 RNA was present in the samples, but does not distinguish between RNA detected from intact virus and fragments of RNA. To better understand what this means, additional testing has been, and continues to be, conducted."
Should we post pone classes? What is Rochester NY Dog's doing to keep students safe?
Just as any other business, we are taking mandatory precautions to ensure our safety and the safety of our students. If you are sick, please contact me immediately and we will discuss postponing your class. The great thing about private sessions is the freedom and ability to have flexibility with your schedule!
Second: Rochester NY Dog's DOES and has always offered ONLINE classes for vast majority of behaviors and training needs. Training such as puppy basics, obedience, potty training, crate training, food / nutrition, basic commands, etc, can all be trained virtually / online via streaming services such as Skype. If you would like to consider changing to virtual classes, please don't hesitate to let me know.
My dog and I are enrolled in group dog training classes somewhere else, what should I do?
Speak with your trainer and see what they and their business is doing. Rochester NY Dog's primarily only offers private dog training sessions so this is not an issue for us. If you or your family are high risk and are looking for private sessions please feel free to contact me and I would love to help you out.
Second, as mentioned above, Rochester NY Dog's DOES offer ONLINE STREAMABLE dog training sessions. Sessions will still be tailored to your needs and you will be working with me directly, but I will be working with you virtually via programs such as Facebook Streaming, Skype, ETC, so you will be able to train in the comfort and safety of your home!
Best training options during this mandatory shut down:
Mandatory Disclaimer
I AM NOT A VETERINARIAN. If your pet becomes ill, just as I would recommend in any other situation, please consult with a veterinarian of your choosing.
Important Links
Following are links gathered so that you can keep up to date with Covid-19 as it may pertain to you and/or your pets. Please take information on this page for face value and
Photo by: @Chiwawa_Ivory – Instagram
Contact Us